In early December, I was heading to work when I noticed the pink clouds in the eastern sky. I took a detour to watch the sunrise at Surfer's End at Sachuest Beach in Middletown.
I spotted a small, freshly-cut Christmas tree hunkered in the sand near the sea wall, tucked in near the rocks.
I learn it appears each year, decorated with traditional ornaments and eclectic ocean-inspired offerings: earrings, necklaces and decorations created from beach glass.
It's a popular spot for photos.
Liz Lirakis, of Middletown, is trying to get a late afternoon portrait of her 13-year-old Labradoodle, Barley. I ask her if she knows the story of the tree.
She says she's grown up on Aquidneck Island, and she has no idea who puts it up. She's been coming for the past 13 years to make a photo with Barley, and the tree—and with her in it, if Barley will cooperate.
"I do it every year," Lirakis says, with a laugh. "I do the same thing with the daffodils. The things that come back every year, that kind of reminds you of home. You know it's going to be there, so you can always depend on it."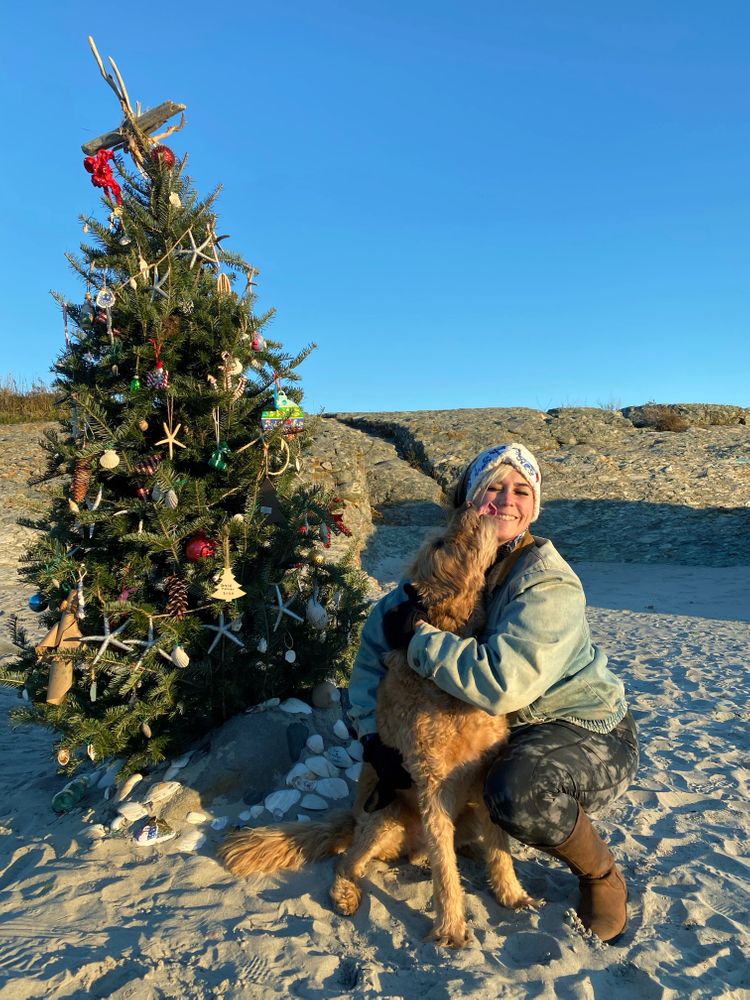 I am enchanted by the pilgrimage people make to take photos of the tree. Parents bring toddlers to marvel at the ornaments. Surfers pass it on their way to the waves. And lots of people take photos of their dogs.
On another visit, I find Hailey Paris, from Narragansett, trying her best to get her Goldendoodle, Remy, to pose for a portrait.
She comes every year for the photo op, too. She said the tree's origins are a mystery.
"If I had to guess, it's probably in secret, a couple of friends," Paris says. "I think it's a community effort."
It is. But it's, in part, thanks to one man. A few days earlier I was walking on the beach at sunset. I found a man who could pass for a fit Santa Claus adorning the tree with beach-glass baubles he'd created.
Ernie Dessaules, of Newport, offered me a piece of red glass in the shape of a sail, dangling on a piece of twine. He said he hangs the gifts on the tree, and people are welcome to take them. He returns every few days to replace them.
I ask Ernie for his number, so I could ask him more questions. The last four digits are 12-25.
Just like Christmas, he says.
A few days later, many of Ernie's gifts are gone, yet the tree has more adornments. A string of starfish ornaments wrapped around it. A peace sign. A sled. Clamshells painted with remembrances for people and pets.
Hailey Paris and Remy circle the tree, checking out the assortment of decorations.
"There's trains and bells and clam shells," she says. "Santas and angels. This one is beautiful — the shell candy cane, wow.
"My favorite part is the tree topper," Paris says. "It's just a mumbo jumbo of driftwood, which I think it's so beautiful."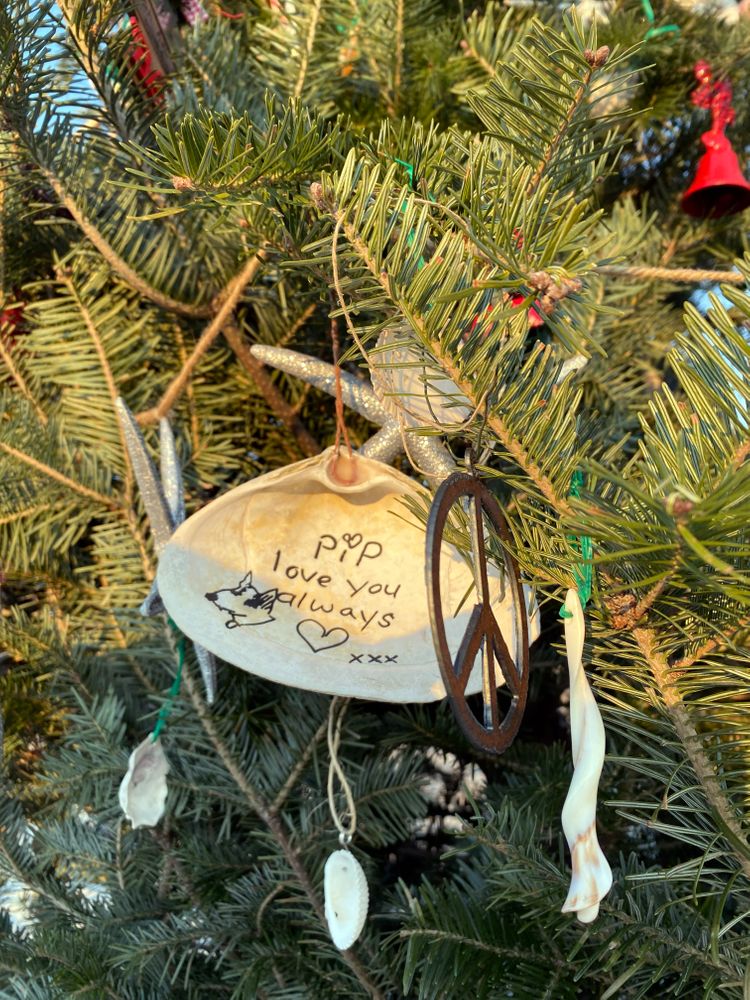 As we are talking, a man approaches and offers us small whelk shells with Santa gnomes he's painted on them. He goes by SJA, the initials on his ornaments. We dub him "Santa's Jolly Associate." Turns out, he's a friend of Ernie's.
He said that on a stormy December 6, the ocean washed over the seawall and dislodged the tree. He found it wedged in the rocks the next morning. He rescued it, and Ernie showed up "out of nowhere" to help him anchor it back in place.
I ask Santa's Jolly Associate if he knows what draws people to the tree.
"I think people are craving happiness," he says.
Locals visit from Newport, Middletown and Portsmouth. I met a family who traveled from Boston, even a pair of brothers who drove eight hours overnight from Wilson, New York, north of Buffalo, after they'd seen a photo of the tree posted online.
Paris says when her sister arrives from Michigan for the holidays this week, she will bring her two dogs straight to the tree for the annual portrait.
This time last year my younger sister was dying. Just four months after our father had died.
The holidays last year were fraught and harrowing. It was as if one sneaker wave of devastating loss knocked us under and held us there. We barely had time to surface and grab a breath before we were sucked down and held under again in our profound sorrow.
This year, my first without my sister and barely my second without my father, far from my immediate family, I am drawn to the ocean and this little tree, loved and cared for and adorned by a community of friends and strangers from near and far.
A tree that survived a storm, that was righted and grounded anew, that draws people to it and its mystery year after year.
A tree that offers comfort and joy.
Cheryl Hatch is a writer, photojournalist and the founder and president of The Women's Education Initiative. She lives in Middletown.