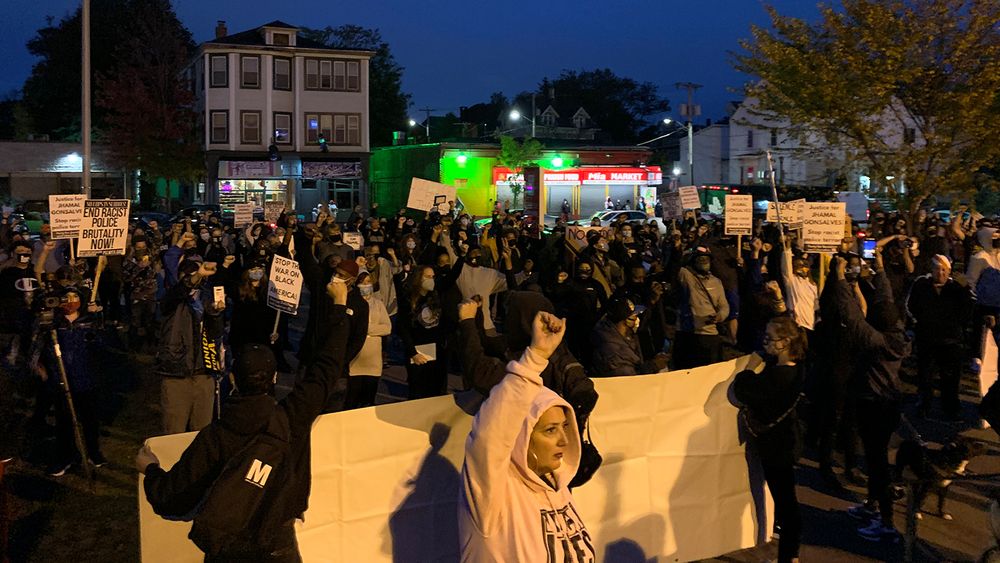 Protesters gathered outside Knight Memorial Library on Elmwood Avenue, demanding an independent investigation of the case.
They say Jhamal Gonsalves, who is African American, was struck by a Providence Police vehicle while riding a moped in a motorbike Ride Out on Sunday, though the police department says it's not clear the police vehicle caused the accident.
Gonsalves' stepfather, Bernard Tribble, says Gonsalves remains hospitalized in a coma.
"There was no reason for that officer to run down my stepson," Tribble said. "This is about justice for Jhamal Gonsalves."
Witness video of the crash shows a police vehicle following closely behind Gonsalves as he makes a turn before crashing, but the moment of impact was not captured.
Providence Mayor Jorge Elorza said, in a statement earlier this week, that police are reviewing evidence and will conduct a full investigation, with help from the attorney general's office.
Police have called mass rides of dirt bikes and ATVs, like the one Sunday, a risk to public safety. Organizers say they provide a positive outlet and sense of community for men of color.
Protester Vatic Kuumba said, rather than the current policing approach, community members should decide what place dirt bike and ATV rides have in Providence.
"We need to change the rules," Kuumba said. "We need to change the rules, because [the police are] doing it in our name, and it's not right―and that's why everybody is here."
Thirteen-year-old Sidney Toby, who was attending his first protest alongside his father, said he felt what happened to Gonsalves was unfair.
"That was very dangerous. They shouldn't have done that," he said. "They could have probably thought of a more careful way to handle the situation instead of going straight to harm."
Toby, who is Black, also said his first experience protesting was powerful.
"It feels like we actually have some strength," he said. "We're starting to try to do something instead of just letting the cops get their way. We're actually trying to fight for our power and our equal rights for Black lives."
According to several news reports, 19 people were arrested Tuesday night.
Alex Nunes can be reached at anunes@thepublicsradio.org.