Surrounded by elected leaders, education officials and reporters Monday at Leviton Dual Language School in Providence, Harrison Peters got a taste of the public scrutiny sure to accompany his new job as superintendent.
In November, the Rhode Island education department took over the troubled Providence School District, which has been under fire since a scathing Johns Hopkins report last year called attention to a host of issues in the district, from poor test scores to crumbling infrastructure. The district is expected to be under state control for the next several years.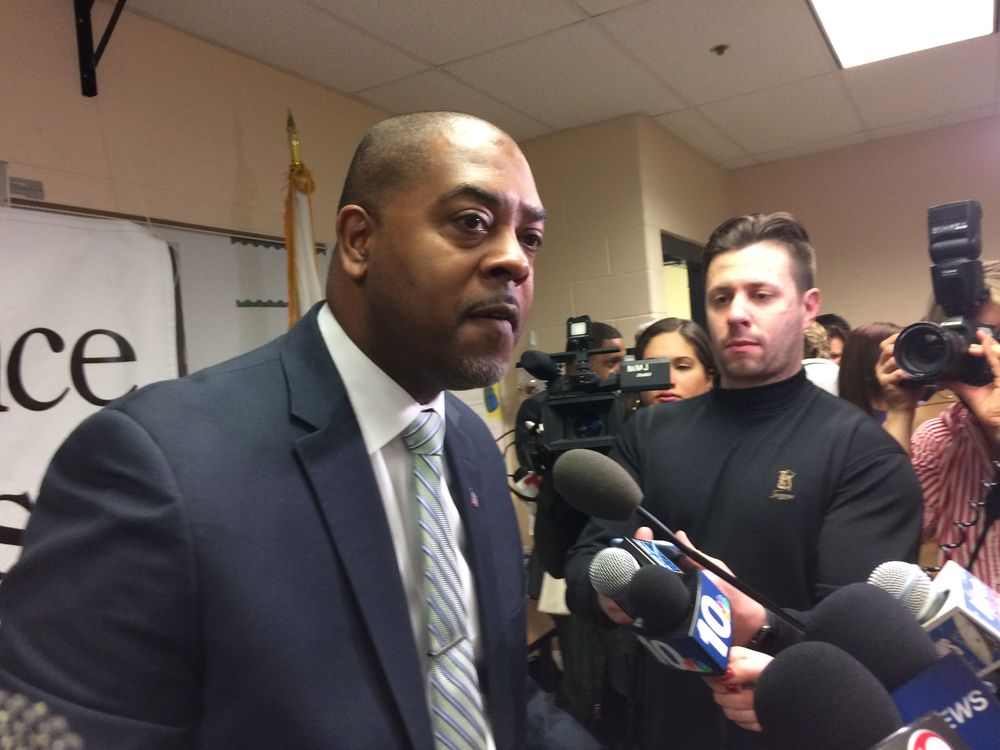 Peters said he doesn't intend on being too prescriptive when he begins his job next month.
"I think the danger is coming in with a plan," Peters said. "Part of what I expect to do is a listening and learning tour, and hopefully understanding the context of what happened. There's a lot of institutional knowledge that I don't know."
"But the reality is there are things that work." Peters added. Peters has worked in education for the last two decades; as classroom teacher, principal and higher level administrator. He has worked in some of the country's largest school districts including Charlotte, Houston and Chicago.
"The challenges we're experiencing here in Providence aren't unique to other school districts across the country," Peters said. But Peters said the system is unique for the broad political and community support for the state takeover of the city schools. That is something outside observers have also noted. Often, state efforts to reform schools and districts are at odds with the municipality subject to the intervention.
"We have an opportunity to do something that has never been done before, Peters said. "I've never seen the alignment at the state and local level for a state turnaround."
Peters is leaving his position as Deputy Superintendent of the Hillsborough County Schools in Florida, an area that includes the Tampa schools. His job in Florida included the day-to-day operations of a district with more than 200,000 students and 13,000 teachers. Providence has a student population of 25,000.The number of teachers in Hillsborough is roughly the same as the number of total teachers in Rhode Island
Unlike previous Providence superintendents, Peters will answer directly to state Education Commissioner Angelica Infante-Green. As the state's top education official, Infante-Green effectively has control over almost every aspect of the city's schools. The Providence School board continues to meet, but with truncated duties. Infante-Green says she's maintained a good working relationship with the city and the mayor.
Infante-Green had hoped to have a superintendent installed by the November 1st start of the state intervention. The search had fits and starts, and stretched on for weeks. Infante-Green blamed the high-profile nature of the job, timing in the middle of the school year, and difficulty offering a nationally competitive salary. Critics, including community members, were upset with Infante-Green for not opening up the hiring process to the broader community. At the time, she said a community decision would dilute accountability for the hire.
"We're here, right now, with the best candidate we could have." Infante-Green said Monday.
Peters grew up in Florida and was raised by his grandmother who, he says, had only a second grade education. She had a "PhD in discipline," he quips. Peters describes himself as a class clown, who started taking his education seriously after a tenth grade teacher took an interest in him and pushed him to apply himself.
"I'm standing before you because education changed my life," Peters said.
Peters takes over the Providence schools at a time of upheaval. Standardized test scores along with an independent report by Johns Hopkins University painted a grim picture of the district last year. Combined, the report and statistics drove the takeover.
"I run to a challenge," Peters said. "All throughout my career I've sought out opportunities to be a change agent."
Both Infante-Green and Peters are part of the organization Chiefs for Change, a nonprofit education leadership group founded by Jeb Bush. Peters said he knew about the issues in Providence prior to his appointment, but said he didn't know Infante-Green personally before he was tapped for the job.
Peters begins his three-year tenure February 20th. His salary is approximately $225,000, according to a spokesperson at the department of education.