Scott Marshall, Rhode Island's state veterinarian, said the Longhorned tick typically feeds off of livestock, like sheep and cattle, which poses a threat to farmers.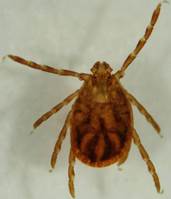 "These are blood sucking parasites so they can actually have heavy enough infestations that they'll eat so much of the animal's blood that the animal could become anemic and possibly even die from it," Marshall said.
Marshall said farmers and pet owners should check with a veterinarian about best practices for tick prevention.
Goudarz Molaei, researcher and director of the tick testing program at the Connecticut Agricultural Experiment Station, said federal health officials know the Longhorned tick has transmitted some viruses and bacteria to humans in its native countries.
"However we do not know whether this tick is capable of transmitting some of the tick borne pathogens here in the United States," Molaei said.
Molaei said the federal Centers for Disease Control is working to understand more about the Longhorned tick's threat to public health.
Molaei added researchers don't know yet if the tick can withstand New England winters, however, he said that could change with climate change.
"The way that we are seeing shorter winters and less cold winter, I feel that this tick has capability to expand the region and distributed throughout most of the continental United States," Molaei said.
The Rhode Island Department of Environmental Management said hunters should spray clothes and exposed skin with tick repellent, and check with a veterinarian about protecting hunting dogs.
The tick was first discovered on a sheep in New Jersey last year.
Back then, Marshall said, officials sprayed insecticides in the affected area, but he said spraying may not be an option here to keep the tick from spreading across New England.
"Not knowing exactly where it is and where it isn't to treat, it's not an environmentally-sound practice to just treat a wide area with insecticides where you don't even know this exists," Marshall said.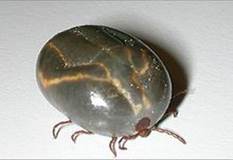 Since 2017, the Longhorned tick has been found in New York, Arkansas, Virginia, West Virginia, North Carolina, Pennsylvania, and Maryland.
The New Hampshire Union Leader reported last month the tick was found on a dog visiting the state from New York.
If a suspected Longhorned tick is found, RIDEM said to collect the tick for animal health officials to identify, as follows:
Place the tick in a snack or sandwich-size Ziploc® baggie along with a small stamp-size piece of moistened tissue paper and seal it. Do not use tape to secure the tick.
Call the RI State Veterinarian's Office in RIDEM's Division of Agriculture at 401-222-2781 or the New England United States Department of Agriculture Animal and Plant Health Inspection Service Veterinary Services office at 508-363-2290.
For more information about tick prevention, visit the TickEncounter Resource Center's website.
This post has been updated. A previous version stated the tick was first found in Connecticut this fall, as was reported by RIDEM. Quotes from Goudarz Molaei have also been added.