→ See more of our coronavirus coverage, including community resources and personal stories. 
In a normal year, the Virtu Outdoor Art Festival is a highlight of the Memorial Day weekend. Sponsored by the Ocean Community Chamber of Commerce, the event draws thousands of people to Westerly's beautiful Wilcox Park. Chamber president Lisa Konicki has spearheaded the festival for over two decades. It's been cancelled this year, but Konicki hasn't given up on it.
"We are hopeful that we will be able to present this event, maybe in a different form, before the summer is over."
Konicki says she wants to gain state permission to host a scaled-down version of her art show before seeking the necessary approvals at the municipal level. She says she's willing to do whatever it takes to safely present a mini version of Virtu Arts.
"Most reasonable obstacles can be overcome. We own snow fencing. We have access to police barrels and barricades and lattice. There's all kinds of things that we can do to be creative."
But director of the state Department of Business Regulation Elizabeth Tanner isn't making any promises. She says she's hesitant to give the green light to any outdoor events at this time.
"We'd like to have events in the future. We just aren't sure what they look like or what capacity we can hold or what the rules will be. It's just too early to make those decisions. I think that's consistent, again, with what you're seeing across the country. Nobody really feels comfortable making those decisions this early on."
What Lisa Konicki and other South County supporters of the Virtu Art show don't understand is what's happening north of them, in Providence.
The weekly Providence Artisans Market is scheduled to kick off on June 6th. The event is held in Lippitt Park alongside the Hope Street Farmers Market. Mike Bryce is owner of the Artisans Market, which was originally scheduled to begin in May, but was pushed back a month by city officials to give Bryce enough time to plan a smaller event that conforms to social distancing guidelines.
"I'll have a booth set up of my own work that someone will cover as I am policing the area completely to make sure spacing is happening, no congregating of people. The idea is to come, shop, and take with you versus lingering there and making it a full day experience."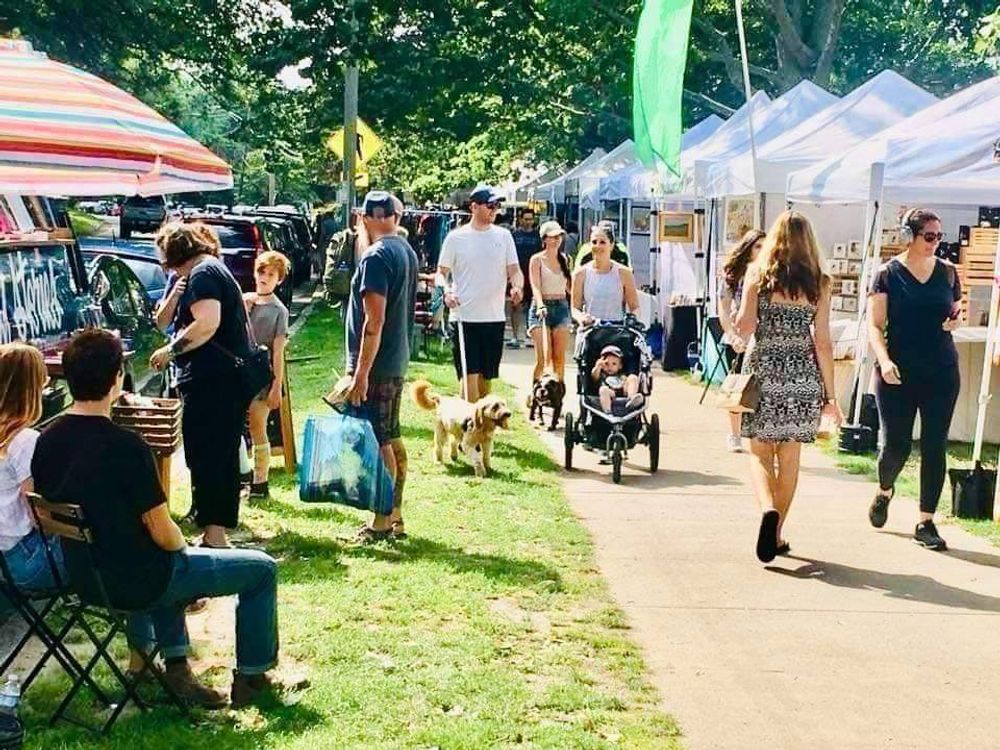 But if the artisans market can take place, Konicki wants to know why she can't go ahead with the art show in Westerly. After learning that Bryce had received permission to open up his artisans market on a smaller scale, Konicki sent an e-mail to Elizabeth Tanner. She explained to Tanner that she fully supports Bryce's enterprise and the neighboring farmers market. Because those events are happening, Konicki says she wants the opportunity to hold a scaled-down Virtu Art show.
"If there's art shows of any kind or other events like farmers markets that are essentially the same style, some sort of commerce under tents in a park and it's happening in June, I think from an equality standpoint, from a legal standpoint, from a constitutionality (standpoint), I don't know how you can sanction one and not the other."
Tanner says the reason is simple: farmers markets are considered an essential service.
"So farmers markets have always been permitted. They are an important food resource to many communities. In certain communities where there's not access to large grocery stores or even small markets, the farmers market is the only source of healthy foods and vegetables."
Konicki thinks that distinction is arbitrary and flat-out insulting to the arts community.
"Whether you're selling carrots or whether you're selling art, I don't see the difference. At the end of the day, the arts are an essential part of Rhode Island's economy, as well as very important to our local economy and this chamber of commerce. We need the opportunity. And we certainly expect and deserve the same opportunity as any other city or town that might be hosting events."
Mike Bryce says the Providence Parks Department has given him permission to hold his artisans market. The state has not followed suit, but that could be because Elizabeth Tanner wasn't even aware of the event as of last week.

In Westerly, the town council has sent a letter to Governor Raimondo's office asking the administration to support a scaled-down version of the Virtu Art Festival. Raimondo has said large festivals will not happen this summer, but Lieutenant Governor Dan McKee says there are some gray areas and the art show might fall into that category.
"Why not sit down and 'Okay, let's talk about how you might be able to do this. How flexible can we be?' And then the people who are organizing the event can say, 'Well, that makes sense and that doesn't make sense.' But just to totally say 'You can't have it,' I think that's short-term thinking."
While she's willing to have Virtu Arts at some point this summer, Konicki says time is of the essence. The show generates tens of thousands of dollars every year for the Ocean Community Chamber of Commerce, which was forced to lay off two staff members once the pandemic hit.
"So if I'm able to produce that event before June 30th, that would be a bit of a tourniquet for us as a chamber and would throw a lifeline to so many of the small retailers and restaurants in our downtown that have come to expect the $6.6 million in economic activity that this event has brought in the past."
Konicki knows that number would likely be considerably lower if a scaled-down Virtu Art Festival happens this year. Nonetheless, she says a small art show is better than no art show.
Joe Tasca can be reached at jtasca@ripr.org