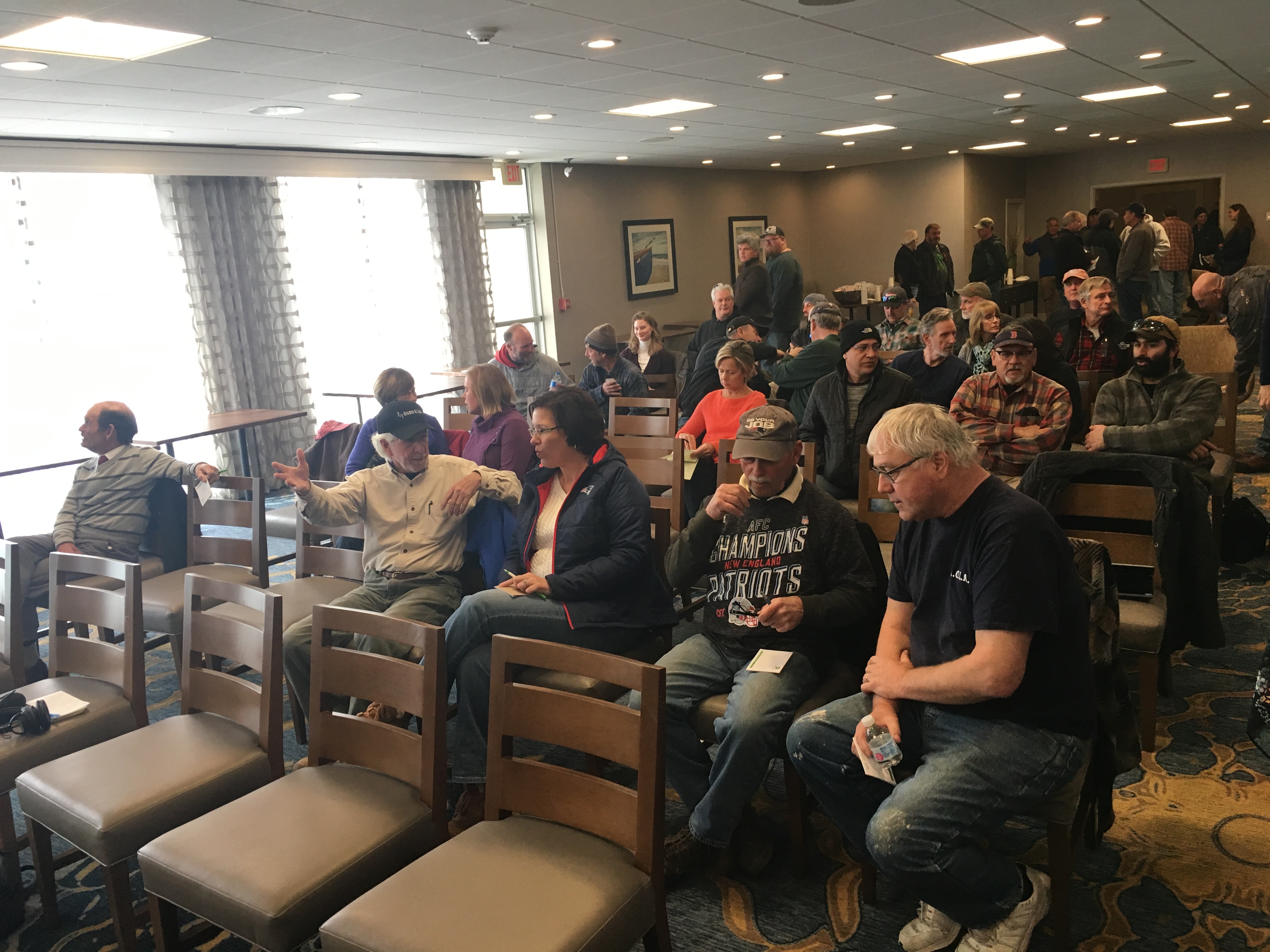 A fishermen's advisory board working on behalf of Rhode Island's commercial fishing industry voted during a public meeting Saturday to accept developer Vineyard Wind's latest compensation package of $16.7 million dollars.
The company is proposing to build a large-scale offshore wind farm about 14 miles south of Martha's Vineyard in federal waters. The Massachusetts project would be more than 80 turbines, which is big enough to supply clean energy to 400,000 homes in the Bay State.
Previously, fishermen wanted Vineyard Wind to change the proposed layout of the turbines so they could still fish in the project area. But because of the time restraints on receiving federal tax credits for the project, Vineyard Wind has said it can't change the layout and agreed to provide the commercial fishing industry with compensation.
"I'm not happy with any of this," Mike Marchetti, scalloper and member of the Fishermen's Advisory Board (FAB), said about the offer during Saturday's meeting. "It has come at a great burden and cost to all of us going through this process. None of us is happy about this, but this is what had to happen, I believe, and this is where we are at right now."
The six-member board was created about six years ago by Rhode Island's Coastal Resources Management Council (CRMC), an agency with regulatory functions that will consider the board's input to determine whether Vineyard Wind's project is consistent with state standards on coastal management.
The FAB started negotiating compensation with Vineyard Wind on Feb. 11.
Initially, the company offered to pay fishermen $6.2 million over 30 years in direct compensation to cover lost revenue. There would have been an additional $23.8 million available over the same time period that could be used to help improve fishing vessels and develop new gear types or fishing methods.
Vineyard Wind's latest offer that was accepted by the board includes payments of $4.2 million over 29 years into an escrow account "to compensate for any claims of direct impacts to Rhode Island vessels or Rhode Island fisheries in the project area." The company also will put $12.5 million over five years into a fishermen's trust fund.
Tricia Jedele, the FAB's attorney, said the latest offer is more valuable because larger payments made over a shorter period of time are worth more than funds that are stretched out over three decades.
On Saturday, the meeting room at a Holiday Inn in South Kingstown was crowded with fishermen worried about their livelihoods, but the vote was approved unanimously.
Most of the fishermen in the room were unhappy with the deal. Some shouted out wanting more time for public discussion, but they were quickly shut down by the board's chairman, Lanny Dellinger, who constantly reminded the crowd that it was a public meeting, not a public hearing where comments could be accepted.
Members of the commercial fishing industry have said Vineyard Wind's offer isn't enough and that the industry is valued at more than $1 billion.
Richard Fuka, the president of the Rhode Island's Fishermen Alliance, previously accused members of the fishermen's advisory board of putting the interests of the developer ahead of the fishermen.
Dellinger said that's nonsense.
"Nobody's on a payroll, it's fully volunteer, nobody gets paid anything," he said. "In fact, they lose money every day they're here. We should all be out fishing right now on this beautiful day and we're in here getting beat up to try to do the best we can for the industry."
Not everyone at the meeting was disappointed in the FAB's vote.
Lobsterman Bill McElroy, who is the former chair of the FAB, said he's thrilled with the offer since the board was up against a company with much more money and a stronger legal team.
"Considering what we got and we were able to get this out of (the negotiations), it's like playing poker with a pair of deuces and you win the pot. That doesn't happen very often," McElroy said.
The board's vote will be considered by the CRMC Tuesday night during a public hearing at the University of Rhode Island's Bay campus.