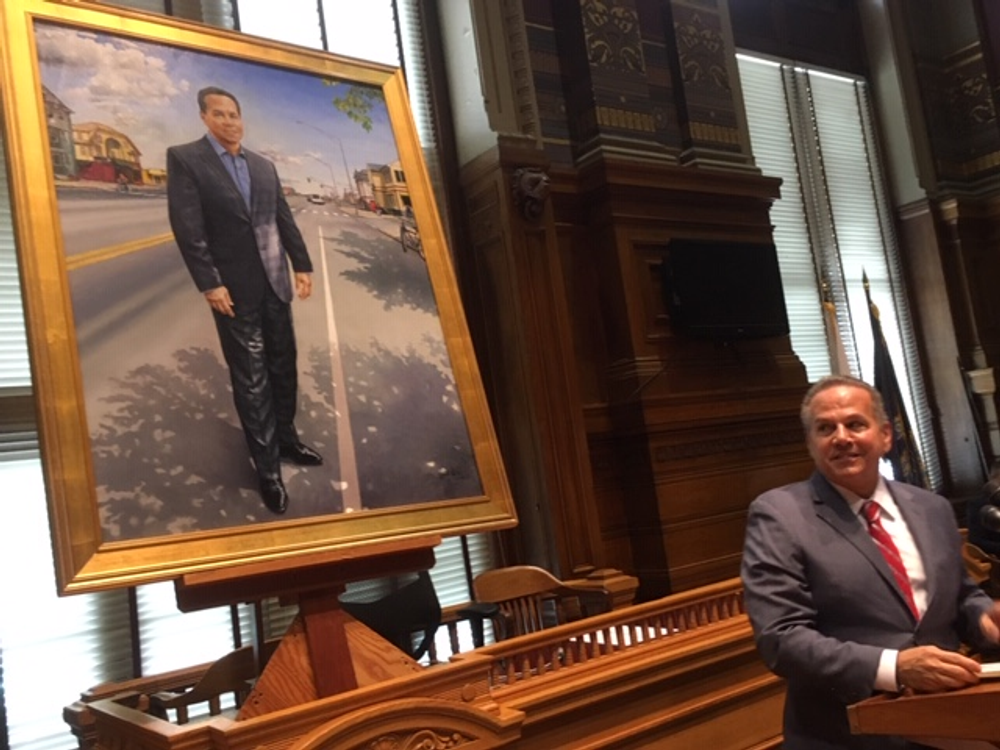 Friends and supporters of David Cicilline touted him as someone who helped move Providence past the corruption associated with the Buddy Cianci era, as Cicilline's mayoral portrait was unveiled Sunday at City Hall.
Cicilline, a liberal state rep from Providence's East Side, was a long shot when he announced his campaign in February 2002. But he gained credibility by announcing early, and Cianci was convicted later that year of a corruption charge that landed him in prison.
In a September 2002 Democratic primary that effectively decided the race, Cicilline enjoyed a decisive victory over former mayor Joseph R. Paolino and two other candidates.
U.S. District Court Judge Jack McConnell, who emceed the portrait unveiling in council chambers at City Hall, was among the public officials crediting Cicilline with improving Providence's city government and the city's economy. Gov. Gina Raimondo and Providence Mayor Jorge Elorza joined in the praise.
Cicilline said, "The thing that I'm most proud of of the eight years of the Cicilline administration is, we rebuilt the civic life of this city, where people felt like it was okay to be involved with city government again, to make a difference whether it was in after-school, whether it was the police working together with the community."
Unmentioned during the ceremony was how Cicilline later apologized for not being upfront enough about Providence's budget problems toward the end of his two four-year terms as mayor. By then, Cicilline had won a congressional seat vacated by former U.S. Rep. Patrick Kennedy.
Organizers said no tax dollars were involved in the commissioning of Cicilline's portrait. The painting by Agustín Patiño shows Cicilline standing on Broad Street and is said to be the first Providence mayoral portrait done by a Latino artists.
Cicilline said the process for his portrait was set in motion when McConnell got in touch with him after the portrait unveiling for his successor, Angel Taveras, and pointed out that Cicilline had not received his own portrait.