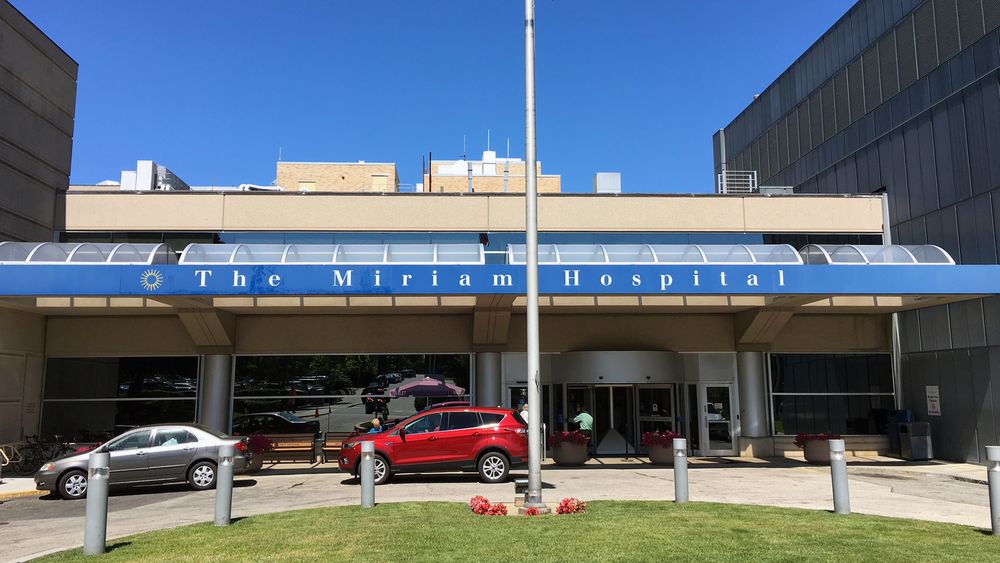 As a psychiatric nurse at Miriam Hospital in Providence, Lindsey Bucci treats patients facing acute mental health crises.
Patients arrive at the emergency room in psychotic episodes, clinically depressed, suicidal, and experiencing extreme anxiety. Some are catatonic. Bucci evaluates patients and makes recommendations.
"Coming into the emergency room with depression and suicidality, or anything else, is an emergency like a heart attack or a motor vehicle accident," Bucci said. "They all need to be treated appropriately and quickly."
Miriam doesn't have its own psychiatric in-patient unit, so people who require that level of treatment eventually need to be transferred out to another facility. And, right now, that's a lot harder.
Some people who may have been placed in a psych bed within hours under normal circumstances, she says, are waiting up to five days in the ER.
"Right now, we are in over our heads," Bucci said. "We've been in a crisis mode for months, and it's wearing on everyone. It trickles down to the patients. It's tough to see and to hear my patients say, 'I'm frustrated that I haven't been transferred anywhere yet, and I'm not getting the proper treatment I need while I'm waiting.'"
Bucci's colleague, Jyllian Rogers, says the backlog means people who've just detoxed from alcohol or drugs sometimes get sent home with the responsibility of finding their own bed at a longer-term treatment facility. In the hospital, multiple psychiatric patients who may already be under acute distress can end up boarding together in a single ER room, as resources are taken up by COVID-19 patients.
"It's terrible care for the patient," Rogers said. "Can you imagine being stuck in an emergency room? It's very loud and chaotic in ERs, and you may be separated by a curtain in some instances. They're not even in a hospital bed. People are on stretchers in the emergency room for a day or two."
Miriam is not alone, and state officials have taken notice.
"We are concerned," said Ryan Erickson, director of strategy and public affairs at the Rhode Island Department of Behavioral Healthcare, Developmental Disabilities and Hospitals. "Probably for sometime we may be dealing with this elevated level of people stuck in emergency rooms that, obviously, we want to try and prevent."
Erickson said it's difficult to make reliable comparisons to before the pandemic because of administrative changes in how the state tracks patient boarding. But, statewide monthly averages during the second half of last year show that 20 or more emergency department patients waited on an average day for a psychiatric or detox bed, many for more than 12 hours.
Dr. Christopher Matkovic, director of adult psychiatry emergency services at Rhode Island Hospital, said between June and November of last year, the monthly average wait time at his psychiatric emergency room increased by 75 percent.
"There are a lot of factors that I believe are putting pressure on the psychiatric inpatient system currently," Matjovic said.
According to Matkovic, the problem is directly related to the overall stress COVID-19 has placed on the healthcare system.
When in-patient facilities make a shared room private for a patient who's positive or potentially been exposed to COVID-19, that reduces the available bed count. Psychiatric patients who are positive may require longer stays. People in need of transfers out of the ER can also be delayed by waiting for a negative COVID-19 test result. And when staff need to quarantine, that can affect how many patients a facility can admit.
Matkovic said, in the ER, care is not ideal, and patients lack helpful treatments, like group therapy, and the ability to comfortably move around a unit.
"In other words, we don't have the same level of services," he said. "We give the treatment that we're able to, but emergency rooms typically aren't equipped for patients staying longer periods of time."
Even as services are limited at many facilities, mental health issues during the pandemic have worsened. Data from the Centers for Disease Control and Prevention last summer show an increase in depression, anxiety, substance use, and suicidal thoughts.
And some providers are seeing anecdotal evidence that supports that. Dr. Jeffrey Hunt, director of inpatient and intensive services at Bradley Hospital, the children's psychiatric hospital in East Providence, is one of them.
Hunt said wait times for Bradley's services have also been longer, partly because kids in state custody have gotten stuck at the hospital while waiting for spots to open up at group homes. As a result, other children in need of in-patient care have had to wait longer in the emergency department at Hasbro Children's Hospital in Providence.
"There's sort of a combination of more kids in need, because of the stress, and more kids who needed a placement who couldn't go," he said. "So they were staying here, which led to less openings, less discharges throughout the week, which led to kids waiting at Hasbro for sometimes as long as a week or so."
At Butler Hospital in Providence, President Mary Marran said, the psychiatric facility has seen a reduction in its bed capacity. The hospital is licensed for 172 beds, but it's been operating at about 140 to 150 beds.
Marran said Butler is ready to use an auditorium on its grounds to house psychiatric patients should the situation worsen as the pandemic continues.
"If we have to, we will open, and that will give us some added capacity," she said. "That will be very different care than what we provide in the hospital, but it will keep people safe, and it'll make sure they get the treatment they need to be stabilized so that they can safely go to the next level of care."
Ryan Erickson at the Department of Behavioral Healthcare, Developmental Disabilities and Hospitals said the state has considered options for upping bed capacity, but it currently has no plans to do so.
Alex Nunes can be reached at anunes@thepublicsradio.org.