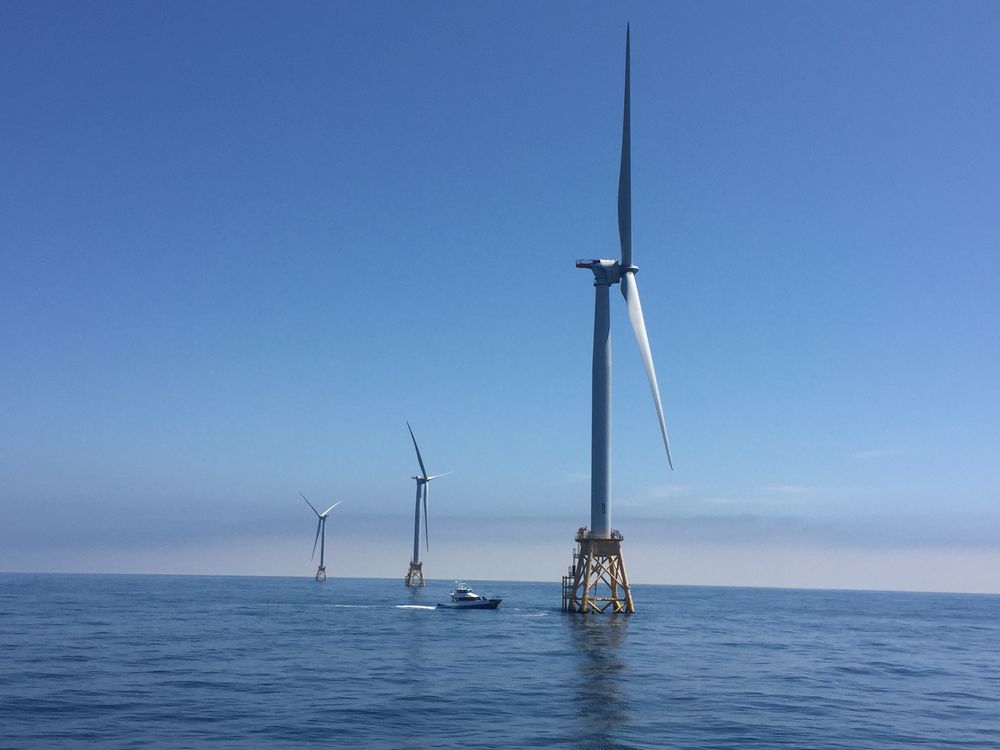 Offshore wind projects across the northeast have stalled during the Trump administration. But the industry is expecting President-elect Joe Biden's clean energy agenda to jumpstart the projects.
David Bidwell, assistant professor of Marine Affairs at the University of Rhode Island, uses sociology and psychology to understand environmental decision making. His recent work focused on the public acceptance of the Block Island Wind Farm, the first offshore wind farm in the country.
Bidwell said the offshore wind industry "has a lot of optimism that the Biden administration will facilitate the development of projects currently in the works."
Coastal waters across the country could generate more than 2,000 gigawatts of energy from offshore wind turbines, according to analysis by the U.S. Department of Energy. If only 1% of that potential was captured, offshore wind could power nearly 6.5 million homes.
The Trump administration had paused the construction of offshore wind projects across the northeast, including the country's first large scale offshore wind farm off the coast of Martha's Vineyard. The Department of Interior said further study was needed to understand the cumulative impacts of offshore wind farms on the commercial fishing industry.
New Bedford fisherman Daniel Farnham, a member of a fisheries working group on offshore wind, said fishermen are concerned that offshore wind farms, with turbines as tall as the Empire State building, will make it unsafe for boats to travel in harsh weather conditions. They want turbines to be spaced farther apart and kept away from fishing grounds.
Farnham hopes the new administration will conduct further study on offshore wind's impact on the industry, including New Bedford's $400-million a year seafood industry.
"I really hope that the incoming administration does at least hear concerns," Farnham said, urging officials to require turbines to be spread farther apart and to install adequate transit lanes between farms, "so we can safely navigate through the area and get home in the event of weather events, dangerous hurricanes, and winter storms."
URI professor Bidwell said the nomination of Rhode Island Governor Gina Raimondo to be the next Secretary of Commerce in Biden's cabinet will be beneficial to the offshore wind industry. The commerce secretary oversees the National Oceanic and Atmospheric Administration, an agency dedicated to protecting fisheries and other marine life. Raimondo
"Governor Raimondo is very familiar with New England fisheries," URI professor Bidwell said. "So it is possible that there could be more bridges built that would help find solutions, to resolve some of the conflicts that have happened between offshore wind and commercial fisheries."
Fisherman Farnham, who catches squid, whiting, and porgy off the coast of New Bedford, said he knows how important it is to combat climate change, especially in his industry.
"As commercial fishermen we are some of the most impacted by climate change," Farnham said. "So we very much want to try and maintain our planet the way we can and not destroy our livelihoods that way."
Massachusetts utilities have agreed to purchase more than 1.6 gigawatts of offshore wind power and plan to add roughly 5.6 gigawatts more this year from proposed future projects.
--
Nadine Sebai is the South Coast Bureau Reporter for The Public's Radio. She can be reached at nsebai@ripr.org or (508) 441-4636.