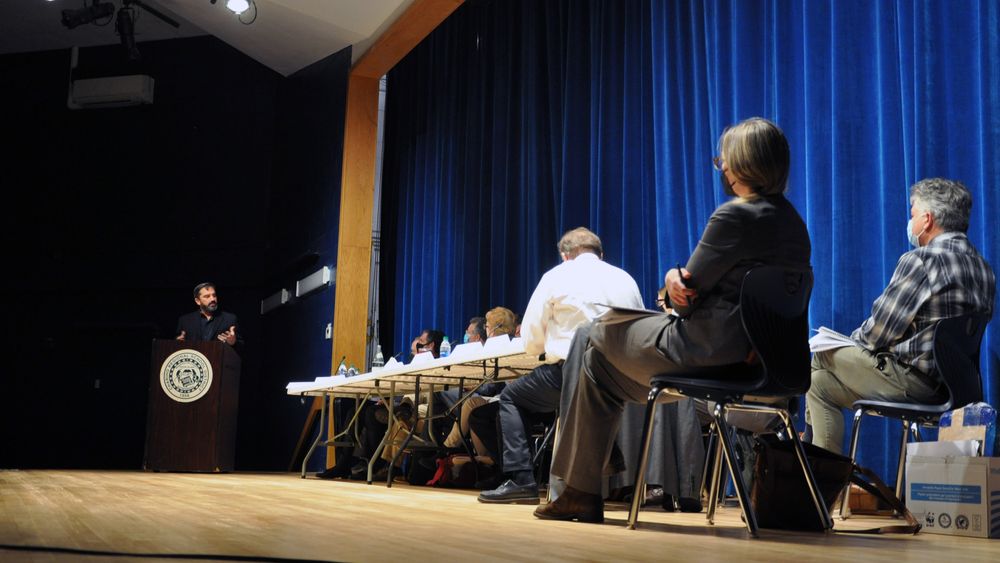 The House commission on shoreline access was formed this year to study public rights along the shore. The state Constitution guarantees use of the shoreline but doesn't say where those rights end and property rights begin.
Several of the roughly 75 people in attendance at Chariho Middle School Thursday night voiced a longer list of concerns about beach access in the Ocean State: limited parking and steep fines, intentionally blocked rights of way, overzealous property owners, and quasi-municipal fire districts that own private beaches but don't fight fires.
Jennifer Krekorian, a South Kingstown resident, recalled seeing "intimidation tactics" by property owners this past summer, like stakes and ropes placed in the ground to block or discourage people from accessing the public shore.
"This sort of attitude of 'I own a big fancy house and you can't access the shore,' it's getting out of control," Krekorian said. "We need to come up with some kind of solution, because it's this overt intimidation that's really disturbing."
Narragansett Indian Tribe elder Bella Noka told commission members she goes to the shore to worship and has been interrupted and questioned while in ceremony. Noka recalled one instance when she was burning sweetgrass after her mother died.
"Someone walked by me and said, 'That smells like marijuana.' I was told that the cops were going to be called on me," she said. "The ocean heals us, and as tribal members, we would never hold it from anyone."
Other speakers recalled stories of themselves or people they know being harassed by private property owners while visiting the beach. Newport surfcaster Dennis Zambrotta said he'd been told by police to leave the shore while fishing. Multiple people singled out the town of Westerly, with its summer homes and exclusive enclaves, as an especially unfriendly place to would-be beachgoers.
Brian Wagner, an attorney from Narragansett and senior planner for South Kingstown who said he was speaking on his own behalf and not in an official capacity, said property owners and beachgoers both have rights, and lawmakers need to take some action to lower tensions along the shoreline and prevent future disputes from escalating.
"This isn't something that can get to the end of the next legislative term and get buried in a commission or passed on to the next year," he said. "With our society currently the way it is, I am more and more concerned that one of these incidents is going to wind up in injury."
Tensions over beach access intensified in 2020 following restrictions put in place because of the COVID-19 pandemic. The commission evolved out of a bill intended to protect beachgoers by exempting them from trespass charges within 10 feet of the most recent high tide line.
Shoreline property owners have said that change would not be fair to them. But several speakers Thursday said they support the proposal, arguing that the current standard of staying below an 18.6-year mean high tide line is near impossible to follow.
"The mean high tide line is really an impractical marker for determining where the public can exercise their privileges of the shore," said Jed Thorp, advocacy coordinator for Save The Bay. "It's not visible or easily discernible by the public or by coastal property owners...The question then is: What to do going forward?"
[CLARIFICATION: Brian Wagner, senior planner for South Kingstown, spoke at the public hearing on his own behalf and not in an official capacity for the town.]
Alex Nunes can be reached at anunes@thepublicsradio.org