Dan Everton grew up in New Bedford's South End, relying on his intuition to guide him through what he would later call a gender transition.
In a neighborhood where streets of triple-deckers lead to churches, shuttered mills and Portuguese bakeries, Everton said he'd never met another trans person. He spent much of his time "hiding away" in the local library.
"I have this deep feeling that queer people are attracted to certain industries, and libraries are part of that," Everton said. "So you would see, like, a librarian who I knew was obviously gay, and therefore it was a safe place that I could sit and hang out in."
As a teenager, Everton found another place where people like him hung out in New Bedford. He was 16-years-old when he started sneaking into Puzzles, one of two gay bars in a city where nightlife skews toward fishermen's taverns and members-only drinking clubs.
It was a place where Everton could enjoy the fun parts of being a teenager, like drinking a first beer, or flirting with other high schoolers sneaking in.
But on February 1, 2006, a teenager came into Puzzles with a handgun and a hatchet, shooting two of the bar's patrons and slicing the head of a third. Everton said he was supposed to be at Puzzles that night.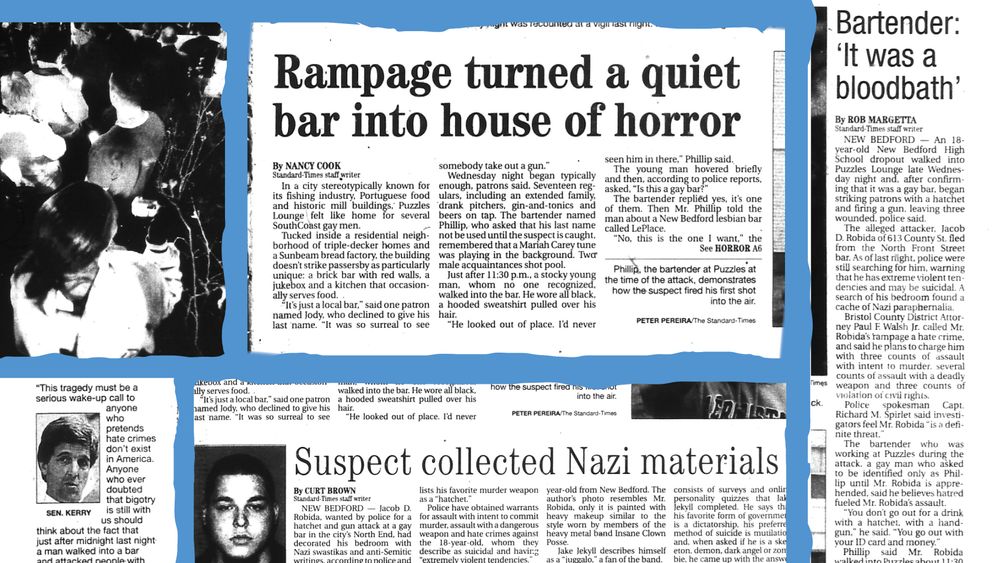 "I was not there because I got into a fight with a friend and was like, I don't want to sneak in tonight," he said.
The next day at school, something seemed off among the crowd that made a habit of sneaking into Puzzles. Everton went to the library looking for answers.
"Lisa Jane was the librarian there, and she was an out lesbian woman," he said, "and so I immediately went over to her, and was like, 'Hey, did something happen?' And then when she told me, it was kind of like, wow."
Everton left New Bedford not long after the attack at Puzzles.
"Honestly, I had to go seek resources elsewhere," he said. "And then I distinctly remember my mom looking to me, and she's like, 'This is why I don't like you being gay. Because this can happen.'"
Everton came back to New Bedford in 2014. He works at the library now, which in some ways hasn't changed since he left.
"Even today, queer kids just hang out in the library, and hide away in that way," Everton said. "But you know, the library can only do so much."
In his free time, Everton is helping create something he never had growing up: a dedicated space for gay, lesbian, bisexual and trans people to find each other and try to build community.
New Bedford's only LGBTQ center — a narrow storefront with beanbags and a few tables — closed during the pandemic after seven years in operation. The South Coast LGBTQ+ Network, a nonprofit where Everton volunteers, is planning an 11-room replacement in a former homeless shelter on Eighth Street.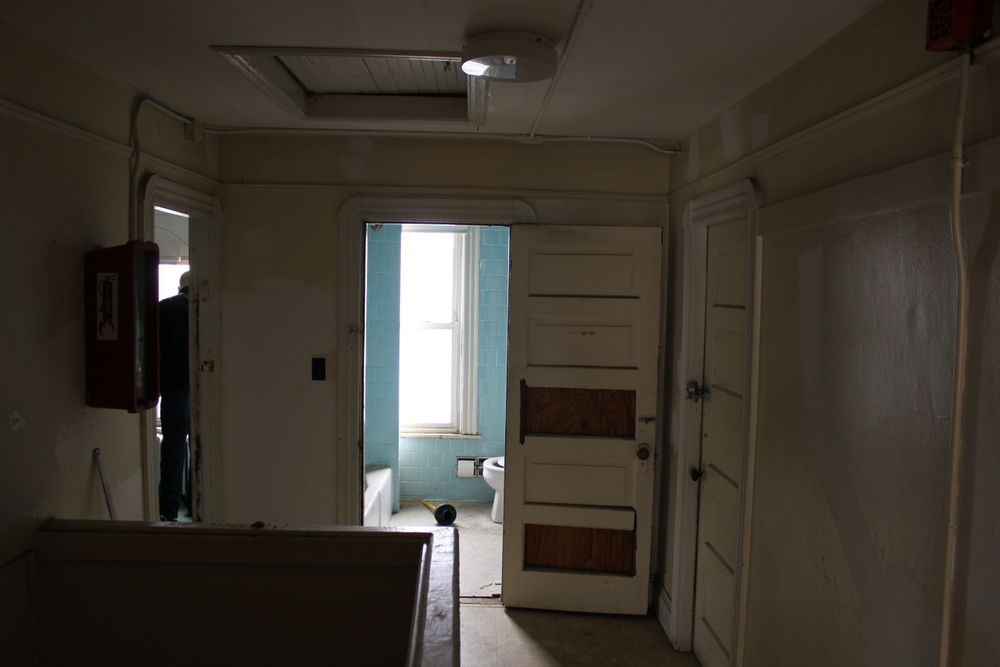 On Monday night, the city council took the first step toward approving $200,000 for renovations.
New Bedford's gay bars have all closed, but the Network's president Andy Pollock said the center can set a new precedent for what community looks like among queer and trans people in New Bedford.
"Having a community center where people can have coffee and connect and have multi generational conversations and, you know, just enjoy each other is so much more healthy and progressive than the old school," Pollock said, "where you're skulking into a dark, bunker-like environment where you are feeling really fearful."
"It's a new day," he continued. "That being said, we are putting protective glass on the front of the building. I mean, we're not fools."
Pollock said the LGBTQ+ Network has already raised a third of its budget for renovations. Completion dates are always a moving target in construction, but the center is aiming to open in 2023.
Everton thinks the center will make growing up trans in New Bedford a safer and happier experience.
"If the network existed how it did the past two years or three years when I was a kid, I probably would have avoided so much stupid shit," he said.
But there's also another, more complicated feeling that Everton has a hard time shaking.
"I feel fundamentally developmentally stunted because I could not exist how I wanted to, and I could not form friendships or intimate relationships like in any teenage movie you would see. You know, the crush, or the first boyfriend or the first dance," Everton said. "Those are things I did not have and could not have. And, you know, I love that people can have that now, but a tiny part of my inner child does get sad."
When he thinks more about the feeling, he realizes it's jealousy. Everton wants a center where kids can have dinner together, take art classes, or find a mentor. It's just something he wishes he had when he was a kid too.
Ben Berke is the South Coast Bureau Reporter for The Public's Radio. He can be reached at bberke@thepublicsradio.org.