The downtown Providence headquarters of the health-technology company Virgin Pulse has all the buzzy features of digital culture: free snacks, a cluster of treadmill desks, and a roof deck with artificial grass and a sweeping view of the East Side

"It's where people love to just come out, you know," said company spokeswoman Wendy Werve, "and relax a little bit and take a breather."
Virgin Pulse is part of the global empire of British billionaire Richard Branson. It's also one of the companies that increased their local footprint during Gina Raimondo's time as governor. Starting in 2017 with a little under 300 employees, Virgin Pulse now has about 350 workers, most of them still working remotely due to the pandemic.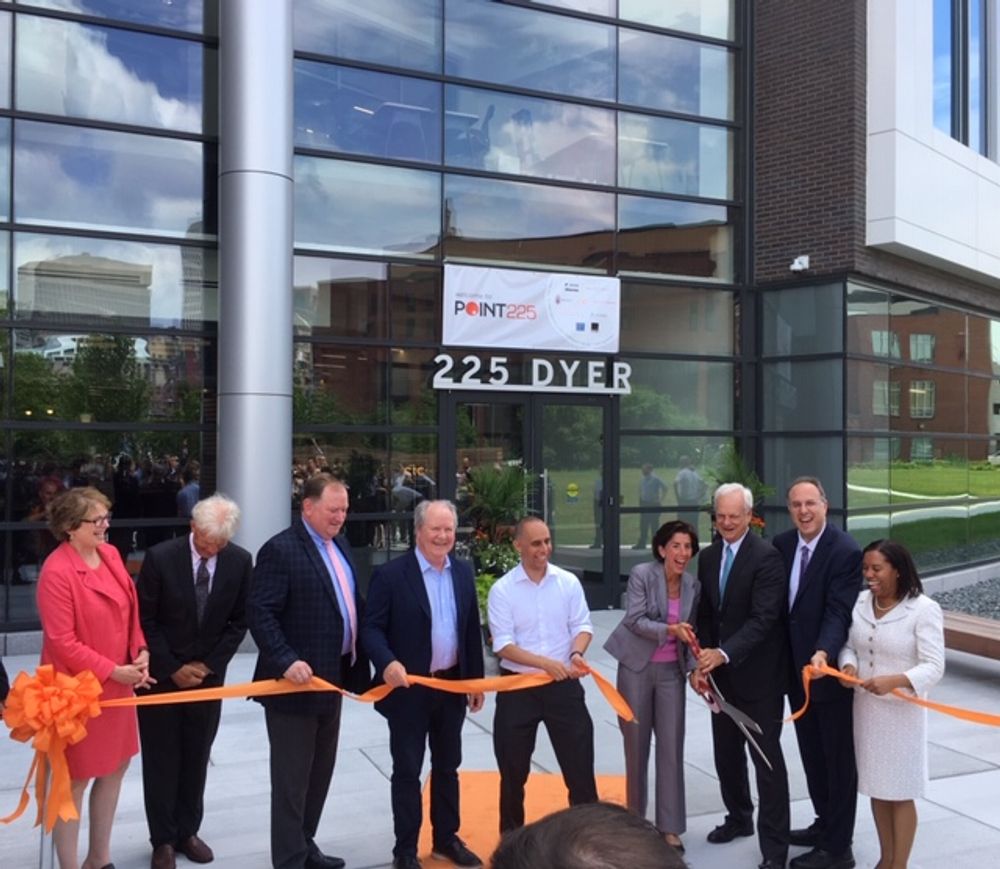 Werve said Virgin Pulse moved its headquarters from Massachusetts to Providence because the city is a good value with an appealing lifestyle.
"Our CEO likes to say it's Silicon Valley at 21 bucks a square foot," she said.
But Virgin Pulse also got about $565,000 in tax credits from Rhode Island's economic development agency, Commerce RI. The company, whose headquarters occupy two floors in the Providence Journal Building, has been approved for millions more.
Using tax incentives was a key part of Raimondo's economic development strategy. That marked a change from her predecessor, Lincoln Chafee. He likened tax incentives to the government picking winners and losers in the economy. Raimondo fired back by saying a lot of other states use these incentives – and that Rhode Island had to get off the sidelines.
Commerce Secretary Stefan Pryor said the incentives used to attract firms like Virgin Pulse, Infosys, GE Digital, and Johnson & Johnston are projected to spark 3,500 news jobs over the next decade.
A total of more than $23 million in incentives has been approved for these four companies, although Virgin Pulse is the only one to get credits so far. Pryor calls the use of tax incentives a smart investment.
"This program much more than pays for itself," he said. "As a result of the investment that we make using these incentives, we expect to spur more than $100 million in state tax revenue over 10 years. That's net of incentives."
The state's ability to attract big employers is only part of the picture. Raimondo also focused on job training and the need to improve workers' skills. Better skills, she said during a 2019 podcast with Infosys, would mean better pay.
"I have made it my mission to just try to create high-wage jobs for people," Raimondo said, "because at the end of the day, I think that's what matters the most."
But the results are mixed when it comes to creating a high-wage workforce.
Manufacturing employment hasn't grown much -- it's held steady in the state with about 40,000 jobs over the last decade. But Dave Chenevert, head of the Rhode Island Manufacturers Association, says a training program Raimondo launched known as Real Jobs RI boosted workers' technology skills and has been important.
"Real Jobs was a great benefit to our sector," he said, "because we needed a mechanism to supply training to young people, those who wish to change their careers and it's worked out fantastic. It was a home run as far as I was concerned."
But the five areas with the most jobs here remain unchanged from when Raimondo became governor in 2015: healthcare and social assistance; professional and business services; government; accommodation and food services; and retail or trade.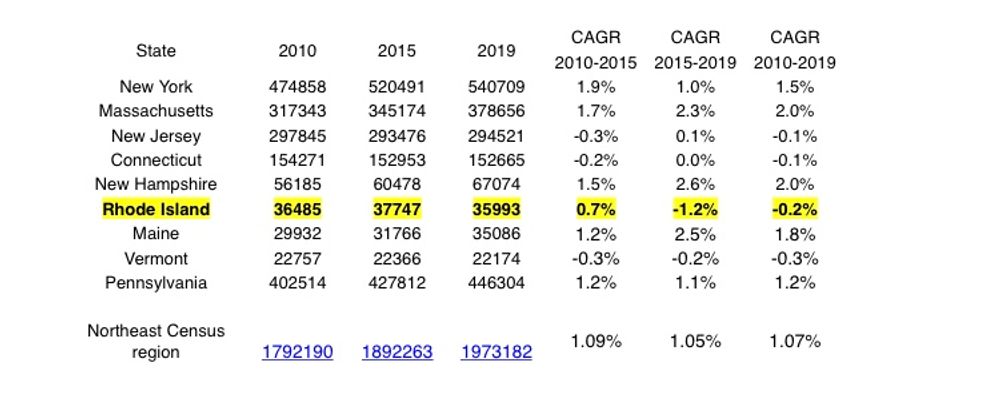 And figures provided by the Brookings Institution to The Public's Radio show that Rhode Island was only one of two states in the Northeast to lose jobs in tech areas like advanced manufacturing over the second half of the pre-pandemic decade.
The job loss was small -- a bit more than one percent. But the finding underscores how Rhode Island still lacks the more diversified, technology-heavy job sector that has made the Boston area an economic powerhouse.
"We don't really have well-defined engines of growth," said URI economics professor Leonard Lardaro.
Lardaro said Rhode Island still wrestles with many of the issues that have held back its economy over time.
"We have very deficient business climate," he said. "There's a lot of issues of skills of our labor force and things, and the quality of government. I personally am thinking three to five years before we are back to where we were prior to the pandemic."
Since 2015, Rhode Island did improve by eight notches, from 45 to 37, on the Tax Foundation's annual ranking of the business tax climate in different states.
Raimondo pushed for a long-sought collaboration between Lifespan, Care New England and Brown University. And her administration, with almost $5 million in tax incentives and construction assistance, helped establish the Wexford Innovation Center in Providence, although two floors of the building remain vacant.
Before taking office in 2015, Raimondo underscored how Rhode Island had struggled for decades to improve its economy. She said overcoming that required much more than attracting new businesses and boosting job training.
"I've invested in universal pre-K, all-day kindergarten, teaching computer science in every grade in every public school in Rhode Island, tuition-free community college," Raimondo said.
But Rhode Island still gets poor grades in some other business surveys, public schools continue to under-perform, and structural deficits of more than $300 million are projected for each of the next four fiscal years.
Raimondo and her supporters cite how Rhode Island experienced the sharpest drop in unemployment of any state from 2014 to 2019. And figures released in November 2019 show how the state had almost 506,000 jobs, the most ever.
Lardaro, however, said falling unemployment does not tell the whole story, since it leaves out people who drop out of the economy.
It's more revealing, he said, to look at all Rhode Islanders' jobs, either in-state or out of state, and how the state has yet to surpass the high point for that figure from 2006.
Lardaro is quick to point out how the governor has limited power in a state with an especially strong legislature. And he said, Rhode Island has failed to take a serious look at what's holding it back economically.
"We need in-house due diligence to really do a top to bottom assessment of our state's economy that's honest and accurate, which is going to be somewhat painful, but that's where you have to start." Lardaro said. "Find the negatives, turn them into positives, forget the PR. Let's make this work."
The job of making this work now falls to Raimondo's successor as governor, Dan McKee. He said the state will still try to attract blue-chip companies while also raising a focus on small business.
"We're going to be really doubling down," McKee said during a recent interview, "especially coming out of this last year in terms of COVID and the impact that this COVID has had on the local economy and the impact that it's had on small business."
As a newcomer to the governor's office, McKee will benefit from a gusher of federal stimulus money pouring into Rhode Island. But COVID sent unemployment soaring here and claimed a lot of small businesses. So Rhode Island has to make up lost ground even before McKee and others can focus on trying to improve its economy.
Ian Donnis can be reached at idonnis@ripr.org. Follow him on Twitter @IanDon. Sign up here for his weekly RI politics and media newsletter.